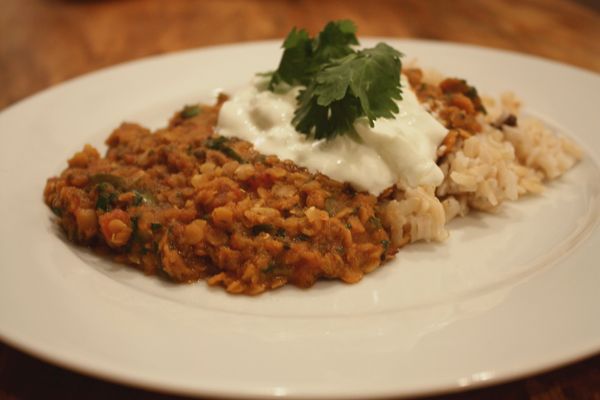 I've finally done it. I've found the lentil recipe of my dreams. I always have so much hope for lentils, but in the end they're usually somewhat bland. I've always wanted to replicate the best lentils at Indian restaurants, but no matter how many spices I add, I've never quite been able to get it right. The answer, of course, can be found in Ottolenghi's
Plenty
, and the solution is a whole bunch of cilantro. If you're not a cilantro fan, this recipe will turn you off, but if you can't get enough of it, then by all means make these lentils as soon as you can.
What I love about
Plenty
is that every dish is so full of flavor: herbs, spices, fats. Too much vegetarian food tries so hard to be "healthy" that flavor moves into the background. You just can't build flavor without fat. We're hard-wired to enjoy food with a good lipid backbone, so feel free to add it with abandon on occasion. (Although, to be fair, even I cut down on the amount of butter stirred into this dish at the end. No need to guild the lily.)
As usual with Ottolenghi, it can be a struggle to find all of the ingredients for this recipe, but a good Indian grocer should have most of these things. The curry leaves in particular can be difficult to find, but they really add a nice element and I wouldn't recommend forgoing them. We made these after being cooped up in the house all day for Hurricane Sandy. I feared that the power would go out halfway through cooking and we would be left with a pot of inedible hard lentils, but thankfully we made it through the storm unscathed.
Ottolenghi's spiced red lentils with cucumber yogurt
(with a few small changes)
1 cup split red lentils
1.5 cups water
1 bunch cilantro (rinsed if gritty) (about 3.5 cups)
1 small onion, peeled
2.5 inches peeled ginger
3 garlic cloves, peeled
1 thai green chile, seeds removed
1.5 tsp brown mustard seeds
4 tbsp peanut oil
1.5 tsp coriander seeds
1 tsp cumin seeds
1/2 tsp ground turmeric
1/4 tsp sweet paprika
10 curry leaves
1.75 cups canned chopped tomatoes (I used crushed tomatoes, but you can use whole tomatoes and crush them during cooking with a spoon)
2 tsp sugar
1/4 tsp fenugreek (optional)
salt
.75 cup Greek yogurt
.75 cup finely diced and peeled cucumber
1.5 tbsp olive oil
1 tbsp butter
1.5 tbsp lime juice
Rinse the lentils in a colander under running water, then soak in 1.5 cups of water for 30 minutes.
Cut the cilantro bunch somewhere in the middle to separate the leafy parts from the stemmy parts. Chop the leaves roughly and set aside. Throw the stalks into a food processor with the roughly chopped onion, ginger, garlic, and chile. Pulse a few times to finely chop everything without turning into a paste. I suppose this could also be done by hand.
Put the mustard seeds into a heavy pot and set on medium heat. When they begin to pop, add the peanut oil and then the chopped onion mixture. Reduce heat to low and stir for about 10 minutes. Grind the coriander and cumin in a spice grinder (or use the preground stuff if you're not a fanatic like me) and add it to the pot along with the turmeric, paprika, and curry leaves. Continue cooking and stirring for a few minutes.
Add the lentils and their soaking liquid, with the tomatoes, sugar, and fenugreek. Add a pinch of salt. Cover and simmer for about 30 minutes, until the lentils are fully cooked.
Mix the yogurt, cucumber, olive oil, and a bit of salt, and allow to sit at room temperature.
Stir in the butter, lime juice, and chopped cilantro leaves (reserving a few for garnish). Season with salt to taste. I served it with brown basmati rice and the yogurt and a few cilantro leaves spooned over the top.