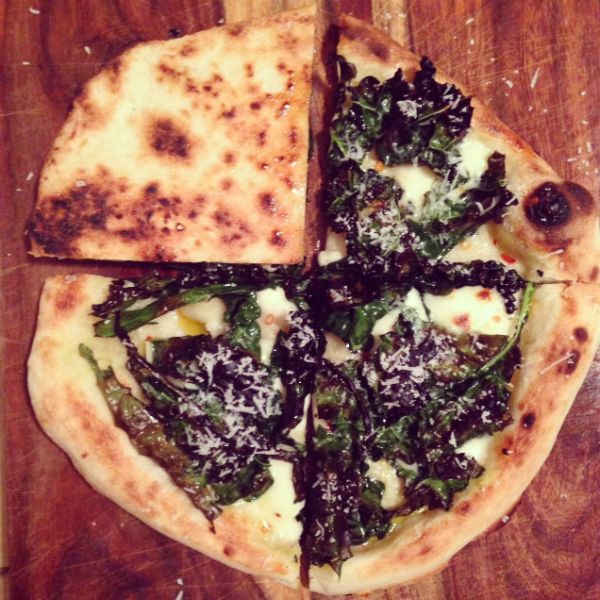 It's a cliché by now to talk about the beautiful simplicity of Italian cooking, but on a weeknight it becomes a very attractive culinary philosophy. I love cooking complicated dishes on the weekends, but most evenings I just want to make something delicious with a few ingredients. That's why this kale pizza has become one of my favorite go-to recipes. That is, if you can even call it a recipe. It's so simple, it's really more of a technique.
The secret is to begin your pizza on the stove to get the bottom nice and spotted, and to finish it under the broiler which crisps the kale and creates an intriguing textural contrast with the soft cheese and fluffy crust. Loading it up with good olive oil makes it even more delicious. It's very Neapolitan in style without the trouble of a wood-burning oven. If you can't find cavolo nero (Tuscan kale), regular curly kale can work well, too, but it will be a bit more voluminous.
Recipe
Makes two 10" pizzas
1 lb pizza dough, room temperature (store bought or homemade)
8 oz fresh mozzarella
1 medium bunch of cavolo nero (Tuscan/dinosaur/lacinato kale)
Good olive oil
3 cloves garlic
Pinch red pepper flakes (optional)
Freshly grated Parmigiano-Reggiano or Pecorino Romano
On a floured surface, cut the pizza dough into two equal-sized portions and stretch them slightly into a disk. Let the dough rest as you prepare the toppings.
Remove the ribs from the kale leaves and tear them into roughly 2-inch squares. Toss the kale with 2 tablespoons olive oil in a bowl, rubbing and massaging the leaves so they're evenly glossy. Thinly slice the garlic (or mince it if you don't like large pieces).
Stretch one ball of pizza dough until it's about 10 or 11 inches in diameter, being careful not to crush the edges so you'll have a nice, bubbly crust.
Heat a very large (12") skillet or frying pan over a medium-high flame and begin heating your broiler, adjusting the rack so your pan will just barely fit under it. You don't want to use nonstick here—as long as you don't burn the pizza, it won't adhere. After about two minutes, your pan should be hot. Gently place the stretched dough in the pan, and have all your toppings at hand so you can top it very quickly. First, brush the dough with 1.5 tablespoons of olive oil, then sprinkle with half the sliced garlic and a pinch of red pepper flakes. Using your fingers, tear half the mozzarella into chunks and scatter them across the pizza, then spread half the kale over the cheese. You'll want to use more kale than you would think necessary as it will shrink significantly.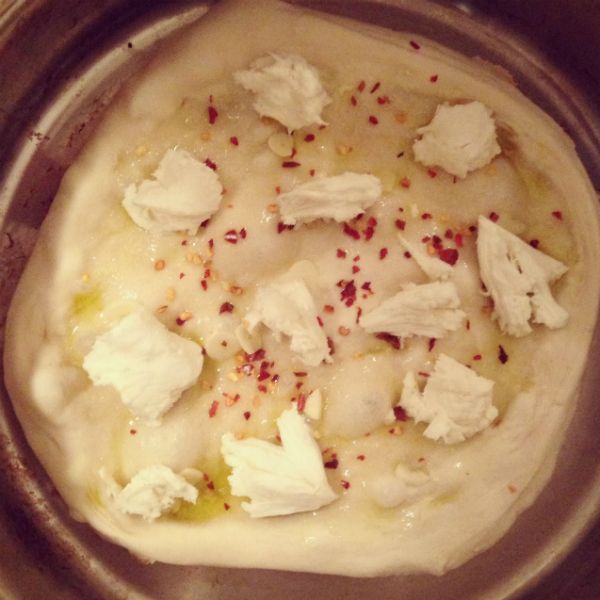 Once you're done topping the pizza, gently use a spatula to check the bottom. Once it has browned (or slightly blackened) in places, gently loosen the entire pizza with a spatula to be sure it hasn't stuck. Move the whole pan under the broiler. You'll want to shift it around during cooking to make sure the top browns evenly. It's done when the kale and crust have nicely browned on the edges. Carefully remove the pan from the oven with oven mitts and use a spatula to move the pizza to a cutting board. Sprinkle it with the Parmigiano-Reggiano and serve it while you begin working on the next pizza, going through the same steps and using the rest of the toppings.