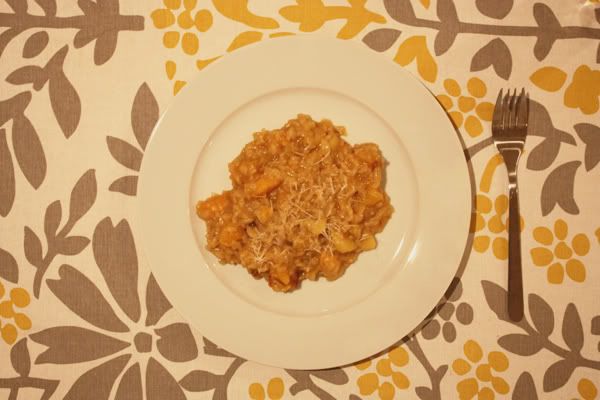 At last,
decorative gourd season
is upon us. Our farm share is now overflowing with squash, apples, and good, honest root vegetables like carrots. I love squash as much as the next guy, but man, it's a lot of work. The peeling, the chopping, the long cooking times; it's not a vegetable for 30 minute meals. It's more of a weekend project than an after-work dalliance. But squash deserves more than your brief attention, anyway.
I've tried squash in many different risotti over the years, but I think this one is the best. In the past, I haven't roasted it before adding it to the rice, and it hasn't developed as much flavor as it should. But squash rewards time and effort. Unlike the tomato, which is hardly ever improved by cooking, squash will thank you for your ministrations.
In other risotto news, I may have changed my mind on risotto rice yet again. At first, I used arborio, because it was the most available. Then I switched my allegiance to carnaroli, but it seems like Whole Foods may have stopped carrying it. This time, when I stopped at Shaw's to pick up arborio, they wanted $8 for two pounds, which may be the most expensive rice I have ever seen. I couldn't make myself do it, so I went to Whole Foods, where arborio is about $3/lb. However, someone in the rice section suggested I try calrose, at a mere $1.50/lb. I decided to give it a try, and the results aren't awful. It's not quite as good as carnaroli, but it may be a slight improvement over arborio. I may be heretical to say this, but sometimes arborio can be
too
starchy, and the grains lose all of their definition. While the calrose wasn't quite as creamy as I would like, I think it's a great substitute if you can't find the other varieties. I'm not giving up on carnaroli, however. I just need a new source. (I'm considering ordering 12 pounds of it on Amazon, but that seems like a lot of rice to store in a small kitchen).
Apple and Squash Risotto
1 large tart apple, cubed
1 (3-lb) butternut squash
1 onion, chopped
4 tablespoons olive oil (divided)
2 tablespoons butter (divided)
1/2 cup freshly grated parmigiano reggiano
1 teaspoon fresh rosemary or thyme, finely chopped
salt, pepper
1 cup white wine
1.5 cups rice (arborio, carnaroli, or calrose)
6 cups vegetable stock
1. Preheat the oven to 400 degrees. Peel the squash, remove the seeds, and slice it about 1/2" thick. Lay the slices on a cookie sheet, and use your hands to coat the slices with about two tablespoons of olive oil and a few pinches of salt. Spread the slices in a single layer and place bits of butter (about a tablespoon in total) between the squash pieces. Roast for about 30 minutes, flipping half way through, until browned on both sides. Once it has cooled, cube the squash and set aside.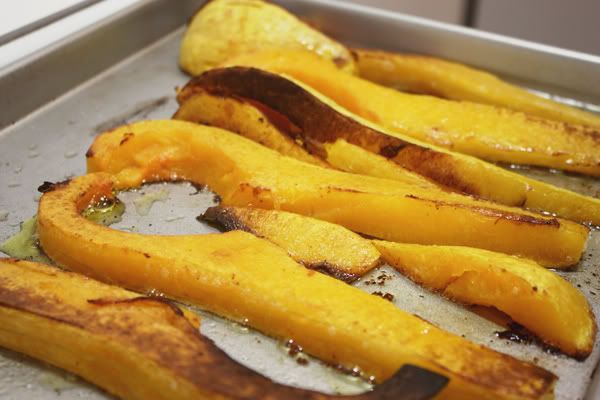 (A note about this photo: it turns out the environmentally-friendly CFL bulbs we used are HORRIBLE for food photography. We've since reverted to standard bulbs and have been happier with the results).
2. Bring 6 cups of vegetable stock to a slow simmer in a saucepan. In a large, heavy bottomed pot, saute the onion and rosemary over medium heat in a tablespoon of butter and 2 tablespoons of olive oil. Once softened, add the apples and rice. Stir to coat with oil.
3. Add a cup of white wine and simmer until reduced by half. Add vegetable broth, a ladle at a time, stirring occasionally to keep rice from sticking to the bottom of the pan. Once you've used most of your broth (it should take about 20 minutes), start tasting the rice for doneness. It should be soft on the outside, but retain a bit of a bite in the center. I always prefer my risotto to be a bit soupy, so it oozes deliciously across the plate, so keep that in mind as well. When nearly done, add the cubed squash.
4. Remove risotto from the heat. Stir in about 1/4 cup of cheese and add salt and a tablespoon or two of butter if necessary. Once plated, add more grated cheese.